Alto Saxophones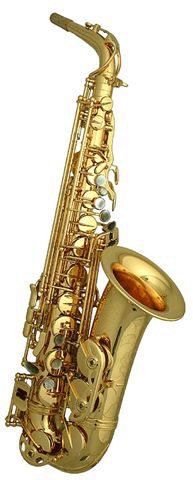 Large choice of Alto Saxes by various makers
There are many sizes of saxophone the Alto being the most common.
We have a huge choice of Alto Saxophones in stock.
Perhaps not the largest choice in the UK but still enough, having tried them, to pick the one that's right for you.
Come in with your mouthpiece, that's if you play already, & choose your up-grade or first Alto Sax.
If you live outside of the EU, for example USA, Australia, Norway etc. you do not pay UK VAT
Our price includes VAT at 20%. To obtain our price without VAT, divide our price by 1.2
Exchange rates are good for non UK citizens at the moment
If you wish to order, phone or email the shop
If phoning bear in mind the shop is only open on Tuesdays Thursdays & Saturdays
Telephone/fax within the UK 0117-9227402
Telephone/fax outside the UK +44 117-9227402
Alto Saxophone Reeds can now be purchased singly
This way you can try out new makes & strengths without having to buy a box
Buffet Alto Saxophones Buffet Tenor Saxophones
Keilwerth Soprano Saxophones Keilwerth Alto Saxophones Keilwerth Tenor Saxophones Keilwerth Baritone Saxophones
Mauriat Soprano Saxophones Mauriat Alto Saxophones Mauriat Tenor Saxophones
Selmer Soprano Saxophones Selmer Alto Saxophones Selmer Tenor Saxophones Selmer Baritone Saxophones
Yamaha Saxophones Yamaha Soprano Saxophones Yamaha Alto Saxophones Yamaha Tenor Saxophones Yamaha Baritone Saxophones
Yanagisawa Soprano Saxophones Yanagisawa Alto Saxophones Yanagisawa Tenor Saxophones Yanagisawa Baritone Saxophones
System 54 Soprano Saxophones System 54 Alto Saxophones System 54 Tenor Saxophones System 54 Baritone Saxophones
Sopranino Saxophones Alto Saxophones Tenor Saxophones Baritone Saxophones Bass Saxophones
TREVOR JONES BRASS AND WOODWIND LTD 13 CHRISTMAS STEPS BRISTOL UK BS1 5BS TEL/FAX 0117 9227402