Celebrating 20 years of the Xeno series
"This special limited anniversary model features attributes of both the Xeno and Xeno Artist Model trumpets. The combination of these unique features brings together the "Monukuzuri," or art of manufacturing that is a shared passion amongst the Yamaha trumpet design team"
"The bell is engraved with the distinctive "Xeno 20th Anniversary" logo. The thin-walled bell and medium-large bore combine to produce a powerful sound with a quick response while still being able to achieve presence and warmth at softer volumes. The bell design features a French bell bead with low-dome wire similar to the Xeno Artist Models which helps the instrument maintain a strong core of sound at louder volumes and also gives the player more enhanced feedback. The side-seam construction of the bell produces even vibrations"
"The "Xeno 20th Anniversary model trumpet features the piston buttons of the Xeno Artist Model trumpets while retaining the design of the top and bottom valve caps from the Xeno line. This small adjustment in weight position gives this trumpet a more free-blowing feel with enhanced tonal colors. The buttons and caps are knurled and have a gold-plated finish adding to the stunning beauty of this instrument"
"A special version of TR16C4 mouthpiece with gold plated finish is included with the "Xeno 20th Anniversary" trumpet. Gold-plating provides a smooth, soft feel and can also help add warmth and depth to the sound"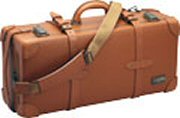 "The unique retro design double case with two handles and a detachable shoulder strap is both functional and eye-catching, offering enough space for not only one but two trumpets (Bb + C, Bb + piccolo, etc.). ?Please note that this case is not sold by itself. It can only be purchased as part of the YTR-8335RS20TH"