Neil Dallas Brown Artist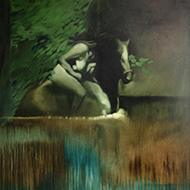 Painting by Neil Dallas Brown
NEIL DALLAS BROWN 1938–2003
The artist Neil Dallas Brown was born in Elgin, Moray and studied at Dundee College of Art, Patrick Allan Fraser School of Art in Arbroath and the Royal Academy Schools.
He won a travelling scholarship to the continent and a number of notable awards and prizes. In 1967 he visited New York with a Scottish Arts Council bursary; in 1970 took part in the Arts Council of Northern Ireland Open winning a major prize; and in 1981 won a bursary to the Scottish Arts Council studio in Amsterdam.
From 1968-78 he was visiting lecturer at Dundee's Duncan of Jordanstone College of Art, then joined Glasgow School of Art where he taught for some 20 years. He lived in Fife until his death in 2003. Dallas Brown participated in dozens of group shows but also had a series of prestigious solo shows, notably at Compass Gallery in Glasgow, a series in the late 1960s at Piccadilly Gallery in London, a touring retrospective in 1975 from Stirling University, Perth Art Gallery 1987, Thakeray Gallery London in 1989 and Glasgow School of Art 1998.
Birds and humans featured in Neil Dallas Brown's pictures, which are tinged with mystery, menace and surrealism. He said "Painting is love. Painting is an affectionate devotion". More than 50 of Neil Dallas Brown's paintings are held in major public collections in the UK including at Glasgow Museums & Galleries, Fife Council, Hospitalfield, The Glasgow School of Art, Edinburgh City Collection, Nottingham Art Gallery, The Walker Art Gallery (Liverpool), Aberdeen Musems & Galleries, Dundee Museums & Galleries, The Fleming Collection (London), Paisley Museums & Galleries and The Scottish National Gallery of Modern Art.
Andelli Art have a painting for sale by Artist Neil Dallas Brown